Bottom Bracket Solutions for Every Configuration
Press-In, Thread-In or Bearing Kits, Enduro has a the right fit
Finding the right bottom bracket for the ever-growing range of bicycles on the market is not always an easy task. At Enduro, we currently offer over 50 different bottom bracket configurations for various bottom bracket shell and crankset combinations in multiple levels of performance and durability. We offers threaded options for BSA, BSA 30, Italian and the robust T47 system. For pressfit bottom brackets we have thread-together Torqtite bottom brackets. We even offer flanged, double-row bearings for 30mm cranksets in BB86 shells! Find your bottom bracket solution here
XD-15 Ceramic Bearing Bottom Bracket
Speed. It is ultimately why we ride. If you want to make your bike faster, more reliable and virtually maintenance free in all conditions, look to the XD-15 bottom bracket. Precision ground and USA made at the Enduro Bearings facility in California, the XD-15 combines cryogenically treated nitrogen steel races with Silicon Nitride Grade 3 ceramic balls in a proprietary process that results in the ultimate high performance bearing setup. Find out why Bike Radar reported the XD-15 "Hands down, the best bottom bracket we have ever tested". We are so sure that you will love these bearings we offer a lifetime bearing and race warranty.
Enduro XD-15 Ceramic Bottom Brackets are available with full 45° Angular Contact Bearings or 15° Angular Contact Bearings.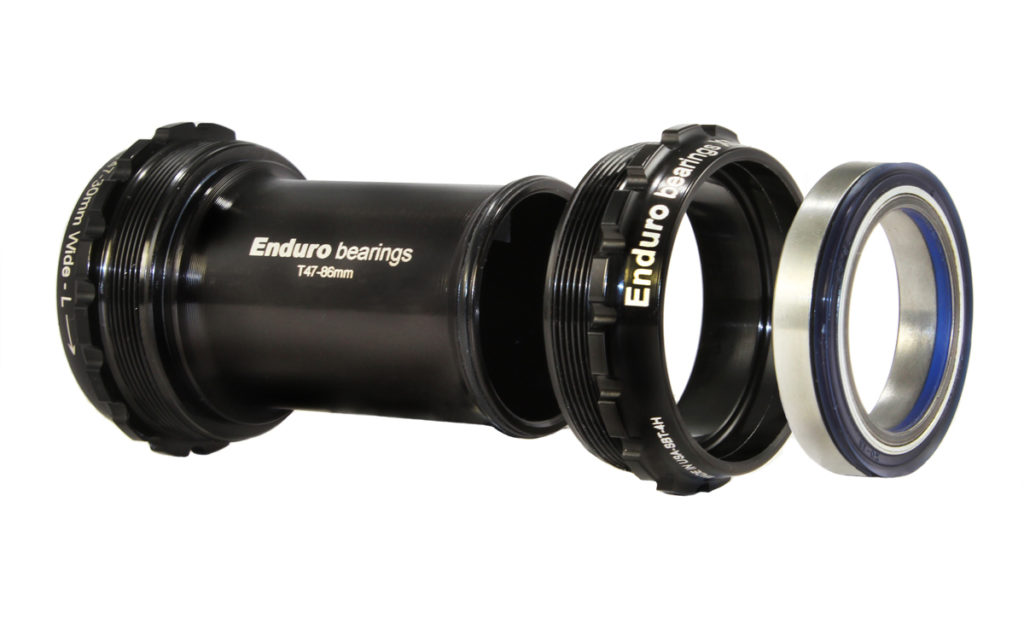 440C Stainless Bearing Bottom Bracket
 For Cross, Mountain, or rainy muddy environments, 440C stainless steel can be a great choice to cut down on maintenance and weather the stormy rides to come. This material will not rust or corrode, and to help them last, we use a 4 mm diameter ball that has +50% mass compared to the competition. We also offer this bearing in Angular Contact design especially for Bottom Brackets to stand up to the axial loads from pedal forces.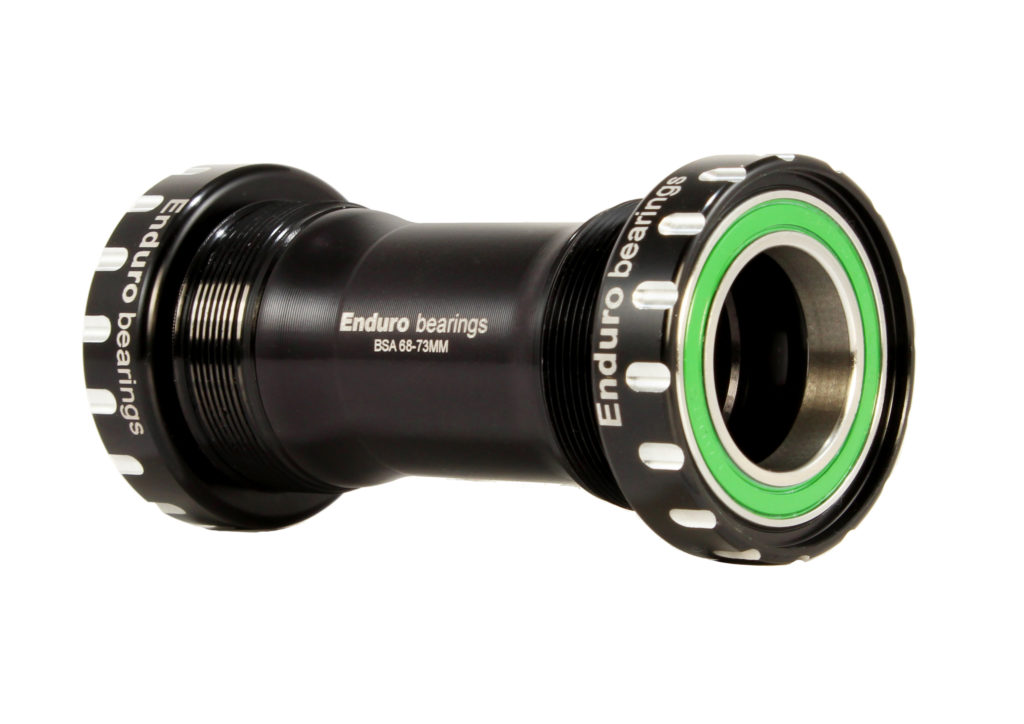 ABEC-3, Press-In, Delrin-Cup Bottom Bracket
Enduro's entry level BB solution, though many steps up when compared to other products on the market, we couple our ABEC-3 radial bearings with precision machined Delrin cups that simply press directly into the BB shell. Enduro ABEC-3 bearings feature 
52100 High-Carbon Chromium alloy races paired with grade 10 Balls, LLB seals and 90% fill high-pressure, water-proof grease. Enduro engineers all of our radial bearings with deeper grooves to accommodate the largest balls possible, providing maximum bearing contact area and greatly increased bearing life.